Carnival's Warm Melting Chocolate Cake
During times like these, I find that baking tends to calm me down, yet sometimes it's hard to come up with creative ideas that Richard and I will both like (enter melting chocolate cake). That's why I'm inviting all of you to join me in a Cooking Challenge. I thought it would be a great idea to share this fun, new challenge with all of you so you can cook along with me at home and try your hand at some favorite Cruise Line recipes, since we can't actually cruise right now. And best of all – relieve some stress in the kitchen.
Anyone who has ever cruised with Carnival Cruise Line, starts salivating whenever the words MELTING CHOCOLATE CAKE are mentioned! And, did you know that you can order it onboard any night, even if it isn't one of the desserts on the menu? I'm not disclosing how I know that information…LOL. So put on a fresh pot of coffee and get baking – we can't wait to see all of your results (post your results on the @amore.travel.designs Facebook/Instagram Page) and continue this cooking adventure together during the next several weeks.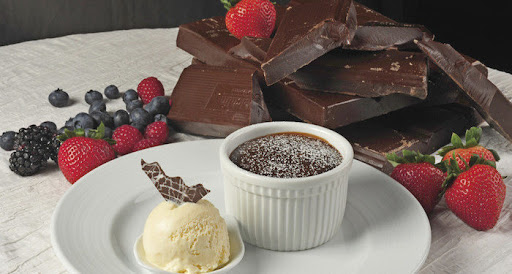 Carnival Cruise Line's Famous Warm Melting Chocolate Cake
Get out the pots and pans and channel your inner Iron Chef. Divide up the courses and compete to see who can make the most amazing dishes. The secret ingredient for every meal: chocolate. The best part is you get to eat what you make.
INGREDIENTS:
6oz Dark Chocolate
6oz Butter
4 Eggs
3oz Sugar
2oz Flour
HOW TO MAKE IT:
Melt the chocolate and butter
Mix eggs and sugar and whisk for a few minutes, then add flour
Add the egg mix to the melted chocolate slowly and mix
Pour the mix in a greased mold
Bake directly in the oven at 390°F for 14 minutes
If you need a You Tube Video, here is the link!
This is just one suggestion of a recipe to try. Do you have any favorites you want to share? What are your favorite types of recipes to try? Restaurant ones? Create your own?
Need a new destination to find a new recipe? Please reach out if you to start a new plan for your late 2020 or 2021 vacation by clicking here, or set up a complimentary consultation to discuss your next vacation for the "past" social distancing time.
Check out my other blog posts:
BEST FOOD WHILE TRAVELLING